Language
Our German business plays a significant role in our European operations.
In the morning in Asia, afternoon in the US – you will be in regular communication with international colleagues from our German locations.
With approximately 1.081 employees, Waldbronn is one of the company's largest locations. Together with our other Agilent locations in Böblingen, Munich, Frankfurt and Ratingen, the company employs around 1.260 employees in Germany.
In Waldbronn, Agilent Technologies develops, manufactures and markets leading complete analytical science solutions based on liquid chromatography, electrophoresis and microfluidics.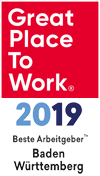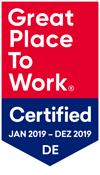 Agilent Germany has been ranked as a top workplace and received the Great Place to work certification. This recognition is awarded to those organizations who are dedicated to fostering an inclusive and quality work environment for all. Agilent Germany received particularly high scores for its wellbeing initiatives as it continues to grow and strive for more innovation. Great Place to Work Certification leverages 30 years of research to quantify the current state of your workplace culture and show you how it compares to the best in the world.