With over 600 employees, Agilent in Singapore is home to many of our global and regional operations.
Our presence in Singapore encompasses various key functions.
We have established our Global Headquarters for Commercial & Legal Affairs, Global Solutions Development Center, Instrument Manufacturing, Procurement, and Supply Chain.
Additionally, Singapore serves as the Asia Pacific Headquarters for Corporate Controllership, Intellectual Property, Information Technology, Tax, Treasury, and Workplace Services.
Moreover, it is the South Asia Pacific & Korea Headquarters for our Customer Operations Center, Sales, and Services.
Throughout our journey, we have been honored to receive numerous industry accolades that recognize our business, workplace, and people, including certifications such as Great Place to Work and being named among The Straits Times Singapore's Best Employers.
We are also proud members of the World Economic Forum Global Lighthouse Network.
As a thriving organization, we are continuously seeking talented individuals across various disciplines, ranging from scientists and engineers to marketers and logistics experts. If you're looking to embark on or advance your career, we invite you to explore the diverse range of roles Agilent has to offer and join us on our journey of innovation and success.
Our Singaporean business offers roles in:
Administration
Communications
Customer Service
Finance
Human Resources
Information Technology
Legal
Manufacturing
Marketing
Quality and Regulatory
R&D
Sales
Services and Support
Benefits
Agilent employees around the globe enjoy core global benefits that include competitive salaries and bonuses, opportunities for equity ownership, and a robust employment package that promotes well-being across all aspects of their lives.
 In particular, our employees in Singapore enjoy a portfolio of benefits, services and conveniences which include:
Health and well-being

Outpatient Clinical Benefit which covers general practitioner (GP) visits, telemedicine, approved vaccinations, health screening, maternity subsidies for child delivery and more

Medical insurance including Hospitalization, Surgical, and Outpatient Specialist plans for employees (with option to extend to dependents)

Ergonomic assessments

Business Travel Health Insurance

Healthy menu and snack options at cafeterias

Emotional wellbeing resources including an Employee Assistance Program (Counselling Hotline), the Calm App, and talks on mental well-being

Medical Leave of Absence and Prolonged Illness Leave

Global Security Response line

Work-life balance

Flexible Work Arrangements

Vacation Leave (Annual Leave)

Parental Leaves (includes Paternity Leave, Maternity Leave, Childcare Leave, Adoption Leave and more)

Personal Leave of Absence

Gifts to celebrate life events such as an employee's marriage, and the birth or adoption of a child

Other leave types

Volunteer time-off

Volunteer Time Off (VTO) program permits eligible employees to take paid time off for volunteer activities during the business day with organizations such as nonprofits/charities, non-governmental and educational organizations and programs in our local and global communities

Financial benefits

Annual Wage Supplement

Competitive base pay

Variable pay programs

Recognition programs

Employee Stock Purchase Plan

Employee Referral Program

Flexible Benefits

Employee Disaster Assistance Program for employees who are required to evacuate their home due to a natural disaster or similar event

Emergency Loan Program for employees experiencing financial hardship in unusual personal circumstances or emergency situations

Personal Accident and Term Life Insurance Plans

Education Assistance Program (tuition reimbursement)

The "extras"

Internal and external development resources and opportunities

Giving and gift-matching opportunities

On-site activities, clubs, leagues, and employee network groups

Sports and Fitness Facilities

Cafeteria and Cafes

Prayer rooms

Nursing rooms

Shuttle bus services to and from Yishun MRT-Agilent Singapore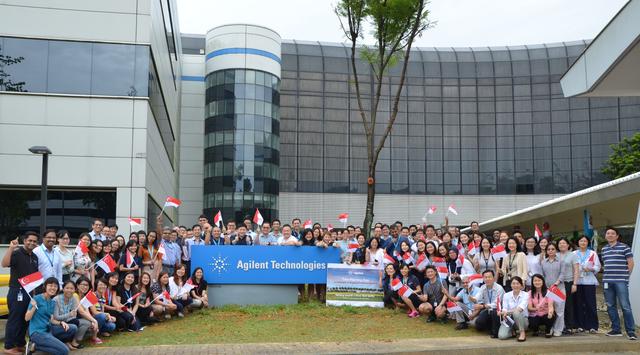 Recruitment Fraud Alert: Please be aware of fraudulent job offers that are not affiliated with Agilent Technologies, Inc. Learn more